To get started and create a ChatBot for your business with nerDigital Chatbot Marketing you need to signup and create an account. Watch this video tutorial on how to get started 👇
How to Get Started video Tutorial
How to Get Started with Chatbot Marketing
In order to get started with chatbot marketing please go to our website nerDigital.com. Navigate to solutions, then click on ChatBot Marketing. Or you can navigate to https://nerdigital.com/chatbot-marketing directly.
On the ChatBot Marketing solution page, select your desired pricing plan and click on the get started button.
Alternatively, you can click on any of the Get started Free buttons to sign up with our free plan. 👇
Then on this page, click on Sign in with Facebook or Sign Up button.
Make sure that you are an admin of the Facebook page you want to connect to. Then click on the continue button.
Okay, on this Facebook pop-up, you should connect Appcontx to your Facebook page. Please click on the continue button and then choose the Facebook page you want to connect. In this case, we want to connect nerDigital Chatbots page. Then click the next button, make sure that you give permission to Appcontx for everything here. And then, once everything is toggled yes, click on the done button, Then click ok.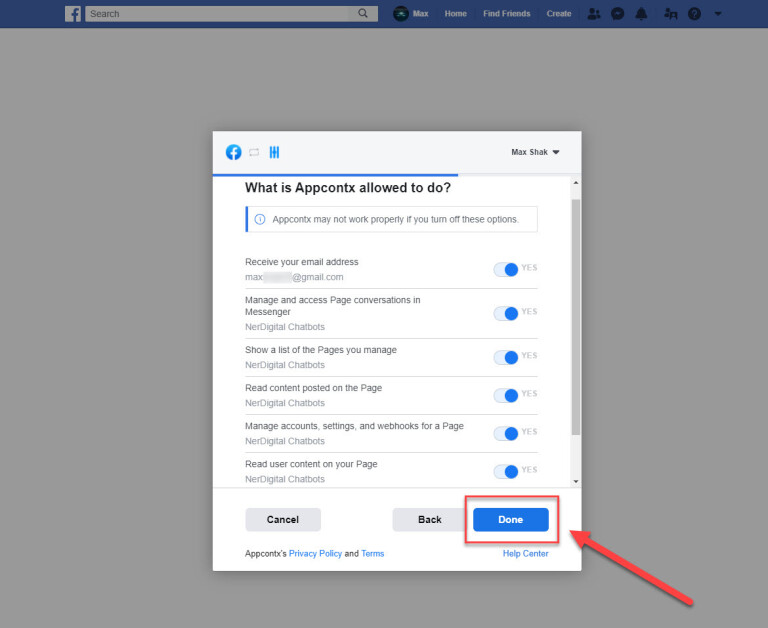 After that, on the Connect Facebook Page, please click the connect button next to the Facebook page you want to connect.
There you go, your Facebook page is now connected to nerDigital Chatbot Marketing.
What is Chatbot Marketing?
Messenger Chatbot is the next big thing in the online marketing world. It is taking the online world by storm. And since Facebook is the most popular of all social networking channels, it only makes sense to start using Facebook Messenger Chatbot Marketing. The nerDigital Chatbot Marketing is the best chatbot builder platform that can easily be used to create a chatbot for your business. For more info please visit: https://nerdigital.com/chatbot-marketing
In recent days, Facebook Messenger has been known to be one of the most effective tools for customer service. Most big companies have already adopted this new strategy and have been using Facebook Messenger to be in touch with their clients directly. In this video, we show you how to connect a Facebook page to a messenger chatbot account for your business. This way, you can have a separate Facebook page for your chatbot, or use your existing business page.
You can also use a Facebook page that is specifically created for the chatbot. There is a separate tutorial on how to create a Facebook chatbot account. If you want to understand how to create an account in nerDigital Chatbot Marketing and connect a Facebook page to a messenger Chatbot on Facebook, then this is the best guide for you.